Thursday, June 28, 2012
* Scenario when you tell others about your woes:
"Friend": Tell me about it. I'll help you spread it.
Posted by

Darcey
at 3:38 AM
No comments:
Links to this post

Sunday, June 24, 2012


Friend: Hey dear, wassup?

Girl: Took so long to reply. Hmph.

Friend: You got my mobile. You can call me.

Girl:Ain't got no roaming service. Besides, my phone is ancient. *hint. Birthday coming **bigger hint. Iphone 5 releasing soon. ***even bigger hint

Girl:I don't have ur mobile. It's still with u. lol

Friend:Ya very funny..wth
Posted by

Darcey
at 10:09 AM
No comments:
Links to this post

Monday, June 18, 2012
People just don't seem to get why Korean dramas are addictive.My sister has always mocked me when I watch Koren dramas. But recently, she herself has caught the Korean drama bug. She was so enamored with this particular drama that she "chased" the drama religiously (*ahem: as in watching the episodes prior to the airing time on tv). Amazingly, she finished watching it before I did. Clears throat. All this was attributable to the lead actor. The charismatic Asian Prince (just found out that this is his new title) Jang Geun Suk. She is so going to kill me for revealing this.
Anyway, I wasn't really keen on this show when I read the synopsis that it is based on the 70s. I thought it was going to be those boring "back in the day" sort of story...yada yada.But it turned out quite entertaining. Thank goodness the 70s only lasted 3 episodes(or was it 4). Nevermind.
Anyway, a little background of the story.
Love Rain 사랑비 (Sarangbi)
Synopsis
The story unfolds with unfulfilled love of 2 conservative people in the 70s. Seo In Ha fell in love with Kim Yoon Hee within 3 seconds of setting eyes on her. He had a crush on her and had been secretly painting portraits of her.
One day, he found Yoon Hee's diary after knocking her stuff over.
He started reading her diary and fell even deeper for her.
One rainy day, both of them were seeking shelter at the porch. In Ha went in search for an umbrella and found a broken one. He sheltered Yoon Hee and got himself wet. That's how their affection blossomed.(*Gosh people those days, fall in love because of an umbrella).
Due to fear of being teased, Seo In Ha (Jang Geun Suk) and Kim Yoon Hee (Yoona -Girls Generation)refrain from revealing their true feelings for each other. They dated for a while but were separated because Yoon Hee had TB and she didn't want In Ha to know, so she ran off to US, while In Ha was forced to served in the army because of suspected support for the opposition.
Separation scene in the 70s
Thirty years later, In Ha's son, Seo Jun(also played by Jang Geun Suk) and Yoon Hee's daughter Ha Na(played by Yoona) bumped into each other in Japan. While rushing at the train station, Ha Na knocked into Seo Jun and dropped her handphone in his pocket (*is that even possible?). They were brought together through Ha Na's quest to retrieve her handphone. They started off on the wrong track but Seo Jun soon finds himself attracted to Ha Na.
*The episodes in Japan are the most entertaining part of the show.
Scene where Ha Na runs into Jun at the Japan train station and accidentally drops her phone in his jacket's pocket.
Fed up after being stood up several times by Jun, Ha Na embarked on a room by room search for her handphone. She manages to locate Jun's room. By luck he forgot to lock the door. Ha Na decided to take revenge by playing a prank on him (writing on the bathroom mirror and hiding stuff under the blanket).
Jun dragged Ha Na along to help him locate the site for Diamond Snow. A scene he saw from her handphone.(This outfit of his is cool too)
Jun slipped and falls into a hole. He reaches out to Ha Na asking her to pull him out. Seeing this as an opportunity the get her handphone back, Ha Na "agrees" but on condition that he hands her the phone first.
*Want to go to place where it snows too. Lets watch Diamond Snow together (craziness taking over)
In short:
It has a typical storyline. Boy being mean to girl. Girl fights back. Boy starts being attracted to girl. They start dating. The twist to Love Rain is Jun's father happens to be Ha Na's mother's first love,and vice versa.
Thirty years down the road, on a rainy day,the old folks met and still have feelings for each other.
Jun's father later proposes to Ha Na's mother. Jun's mother who forcefully married his father went ballistic when she found out that her ex husband is remarrying his first love. She does everything to get in the way.
The youngsters on the other hand didn't know that their parents are together. So they got together. When they found out about their parents (thanks to Jun's drama queen mother), they were torn between carrying on with their relationship or to forgo it for their parents. It was heartache and tears for the youngsters(we're going to be siblings. Being together is incest).
When Jun's mother found out that he is dating her foe's daughter, she went ballistic again. Jun's Mother oppose to their relationship because well she was jealous (duh). Her ex husband is marrying his first love and her son is dating that woman's daughter (double blow). So Jun's Mother becomes a drama queen (drinking, going on drips)to get the attention of both her son and ex husband. When that fails, she vent her anger on Ha Na and her mother.
*Drama queen ahjuma, it's karma. You took away something that does not belong to you thirty years ago. So now you have to face the consequences. What's not yours you can't keep.
Scene from when Seo Jun and Ha Na "eloped"
*Lets get together (yeah yeah yeah)
He's also rocking this outfit. Don't know why all the female leads in Korean dramas have hideous outfits.
Amazingly, the crazy funky hairstyle suits him. Actually everything suits him. Except that 70's hairstyle.
Don't ask me why they make him wear a pink leather trench coat that is way too small.
Jang Geun Suk portraying Seo In Ha in the 70s. The hairstyle is a disaster on him.
The only time the 70s hairstyle looks fine is when it's wet.
I actually find this shirt that he's wearing nice. But can't seem to find a better picture of it. But noona disagrees with me. We'll see. Better make sure you don't buy a similar one for your beau noona.
*Spoilers for the ending.
Characters in the 70s
Top (left to right):
Jang Geun Suk as Seo In Ha
Kim Si Hoo as Lee Dong Wook
Seo In Guk (서인국) as Kim Chang Mo
Bottom (Left to Right):
Im Yoon Ah as Kim Yoon Hee
Son Eun Seo as Baek Hye Jung
Hwang Bo Ra as Na In Sook
Characters in 2012
Jang Geun Suk as Seo Jun
YoonA (Girls Generation) as Ha Na
Kim Si Hoo as Seon Ho
Kim Young Kwang as Han Tae Sung
Park Se Young (박세영) as Lee Mi Ho (Seon Ho's sister)
Yoo Hye Ri as Baek Hye Jung (Seo Joon's mom)
Jeong Jin-yeong as Seo In Ha (Seo Joon's dad)
Lee Mi Sook as Kim Yoon Hee (Ha Na's mom)
Shin Ji Ho as In Sung
Kwon In Ha as Lee Dong Wook (Seon Ho's dad)
Park Ji Il as Kim Chang Mo
Oh Seung Yun as Jo Soo (Seo Jun's assistant)
*Miho, Jo Soo and Jun at work
*When Ha Na stumbles upon Seon Ho
*Ha Na & Seon Ho cooking
Scenes with other actors in it. I am not bias but there aren't many images of scenes with other characters uploaded.
Deeply saddened the show is coming to an end. JKS when are you releasing your next drama?
*If only I know html, then my entry would not be a mess. As always, images are googled.
Behind the Scene
During the filming of Love Rain, the male lead, Jang Geun Suk met with an accident.
He wasn't fanning himself after the accident. Someone just placed that photo next to the wrecked car to show who the actor is.Besides he wasn't the driver. Fortunately it wasn't his Porsche.
Male and female lead cam whoring during break
Memorizing script even when in hot spring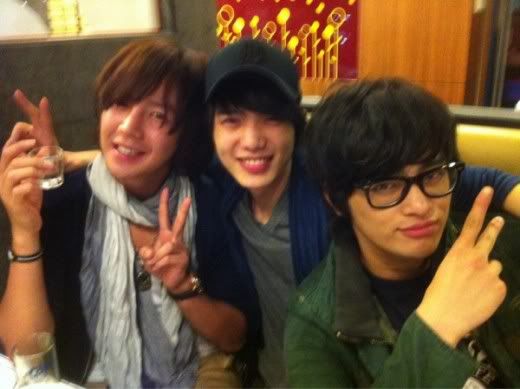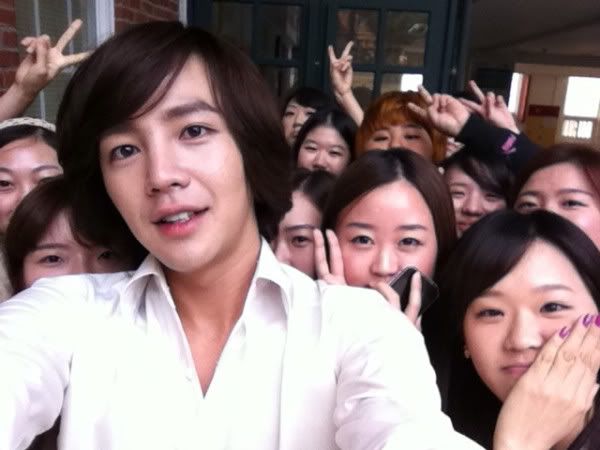 Posted by

Darcey
at 11:07 AM
4 comments:
Links to this post